Volume I Timpani/Percussion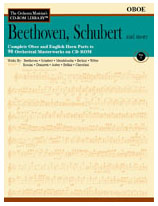 The Complete Timpani and Percussion Parts to 90 Orchestral Masterworks on one CD-ROM. If these parts were purchased separately, this collection would easily cost $500.00 or more. Works are viewable and printable on either PC or Macintosh. No access codes or special software is required. The CD employs Adobe Acrobat Reader technology which is included on the CD.
Contents: AUBER Fra Diavolo Overture; BEETHOVEN Symphonies 1-9, Piano Concertos 1-5, Violin Concerto, Overtures (36 works); BELLINI Norma Overture; BERLIOZ Symphonie Fantastique, Benvenuto Cellini Overture, Roman Carnival Overture; CHERUBINI Medea, Anacréon Overture; DONIZETTI Daughter of the Regiment, Don Pasquale Overture; MENDELSSOHN Symphonies 1-5, Piano Concertos 1-2, Violin Concerto, Elijah, Hebrides Overture, Midsummer Night's Dream Overture and Incidental Music, Ruy Blas Overture; SCHUBERT Symphonies 1-6, 8, 9, Fierrabras Overture, Rosamunde Overture; WEBER Symphony No. 1, Clarinet Concerto, Euryanthe, Der Freischütz, Oberon Overtures.